GET SALES AT A LOWER COST
Make the most of your customer databases with your pre-owned buyers and generate new sales at a lower cost than traditional leads.
Often overlooked, your pre-owned vehicle customer base is a great source for used vehicles sales opportunities. Our services will integrate a follow-up process based on the pre-owned customers buying cycle and vehicle equity.
Get pre-owned sales opportunities with customers that know your business and turn leads into sales at a higher conversion ratio and better profit per unit.

Copilot pre-owned will be your next best source for pre-owned vehicle buyers and our follow-up process will close the loop on your dealership's overall customer loyalty strategy.
Obtain sales opportunities and an additional supply of pre-owned vehicles with Copilot pre-owned.
Complete the buying and selling cycle with a program designed specifically for the pre-owned customers lifecycle.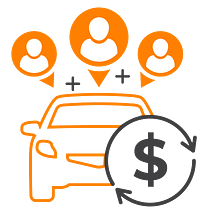 Copilot pre-owned benefits
Select customers based on your available inventory.
Pre-owned vehicle buyers specific lifecycle criterias.
New source for subprime loan vehicles
Get customers orders and shorten your inventory turn rate
Gives you the ability to reduce your inventory quickly if needed